5 Tips to a Clean Car Interior
Keeping your car clean doesn't have to be a chore. In fact, if you get into a regular routine of washing your vehicle, you'll not only preserve the life of the car, but it's overall value as well. The problem is that people focus so much on the exterior of their car, they neglect cleaning the interior!
Having your car detailed can cost upwards of $200, but with the right supplies and a bit of elbow grease, you can use the same techniques as the pros, while saving quite a bit of cash.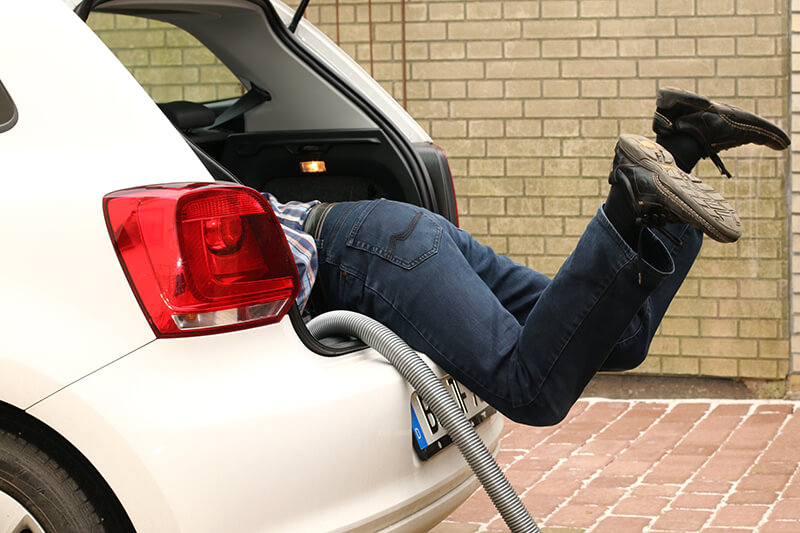 Here are our 5 tips to cleaning your car's interior:
1. Start at the top
While it may be tempting to vacuum first, cleaning your vehicle's dashboard and seats may knock dust and debris onto your freshly vacuumed carpets, so clean from the top down.  
2. Use household tools to clean your dashboard, consoles and door panels
Regular Cleaning: Dust and dirt can create tiny scratches that become worse over time. Many household cleaners contain products that can damage a vehicle's interior, so simply wiping down the dashboard and door panels with a damp cloth will help keep your car looking spic and span.
Advanced Detailing: With all the buttons and controls, your car's dashboard and consoles may be one of the trickiest places to clean. While there are custom tools on the market specifically made for cleaning your car's vents, you can just as easily wrap a flathead screwdriver or flatware with a cloth and achieve the same goal. Use this technique to get into any tight grooves in instrument panels as well.
3. Pull out the vacuum
Properly maintaining carpets will aid in prolonging life and improve air quality inside your vehicle. Carpets trap airborne pollutants, including allergens and bacteria. If dry soils aren't removed promptly, they can cause permanent damage and staining.
Regular Cleaning: Chances are your floor mats are the dirtiest part in your vehicle. The good news is, they aren't too difficult to clean.
Remove all floor mats from your car and give them a good shake to get the dirt loose. Use a vacuum cleaner to remove dirt and debris from the floor mats and the carpet underneath. Use a vacuum with a good brush extension to get all the nooks and crannies inside your car, including cup holders and your vehicle's seats. Vacuum each mat until all the dirt is removed.
Advanced Detailing: All-weather floor mats can be hosed down and detailed with a toothbrush. Use a color-safe fabric or upholstery cleaner to remove any stains from fabric seats, carpet floors and floor mats.
While regularly vacuuming is an important key to maintaining carpets, only steam can effectively lift dust from deep within carpet. If not removed, it will destroy carpet fibers. How often should carpet floor mats be steam cleaned? The answer really depends on usage. As a comparable guideline, experts recommend household carpets be cleaned every 12-18 months at most; every 6 months if concerned about allergens, and every 4-6 weeks if you have a pet. However, vehicle floor mats are subjected to a much more concentrated usage.
4. Protect interior surfaces
Just as you would wax your vehicle to add a layer of protection to your vehicle's paint, interior materials also need a defense mechanism. Without protection, the sun and heat can cause irreversible damage to interior plastic, vinyl, leather and fabric.
While you can head off some damage by tinting your windows, using a windshield sun shade and cracking your windows for ventilation, adding a layer of protection to each surface is an important step in ensuring longevity.
Advanced Detailing: As easy as it would be to use a household cleaner and conditioner universally, household cleaners simply aren't created with vehicle interiors in mind. Though more expensive, using automotive specific products will ensure interior surfaces receive the proper treatment and protection from their unique environment.
Leather: Car leather is manufactured differently than the leather upholstery on your living room couch. Modern day dyes, pigments and finishing processes produce a car leather that is highly resistant to the wear and tear our vehicle's seats experience. Nearly all car leathers today are finished with a protective coating that adds protection and durability to the leather. This means you aren't dealing with the actual leather, but are cleaning, treating and conditioning the clear protective layer, just like the clear coat on your vehicle's exterior paint.
Keeping your car leather clean is the most critical part to its care, so a regular wipe-down with a damp cloth is essential. When you're ready to condition and protect the surface (recommended monthly), start out with an automotive leather cleaner to prepare the surface. Follow it up with an automotive leather conditioner, following the manufacturer's instructions for application.
Vinyl and Plastic:  After cleaning the surface, use a water-based automotive interior protectant. The ideal product won't attract dust or leave important surfaces, such as the steering wheel, slippery or difficult to grip. Some products are specifically made to restore color and shine to black vinyl/plastic surfaces.
5. Never underestimate odor-eliminating products
Nothing is worse than having a clean car but a lingering odor. Luckily, using an odor-eliminating product can help reduce any smells inside your car.
While most people hang a deodorizer from their mirror, you can also cut holes into a tupperware container lid, fill the container with lumps of charcoal or baking soda, and put the container under your car seat. This is an easy way to absorb any nasty odors.
Quick tip: For odors in cloth seats, sprinkle the seats with baking soda, let sit for 5 minutes, and vacuum up.
For odors that just won't go away, give your vehicle's cabin air filter a check - you may be surprised by what you find!
By following these 5 tips to clean your car's interior, you can rest assured that you will have an odor-free, clean car all year long, and help extend the life of your vehicle's interior!